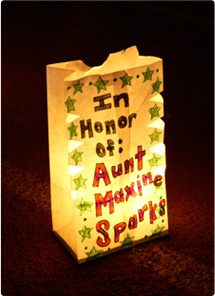 The American Cancer Society's amazing fundraising event, Relay For Life, is being held on June 1st and 2nd at the Nevada County Fairgrounds.
We have all been touched by cancer. Many of us have lost a family member or friend or we know someone that has.
PLEASE join in helping Simply Hair support this important fundraiser by coming into the salon and picking up your luminary bag. Your donation of $10 will help greatly in the fight against cancer! After decorating your bag in memory of a loved one or someone in their current battle with cancer, you may either take it to the fairgrounds on June 1st or bring it back to the salon and we will make sure it gets there. These bags are partially filled with sand and a lit candle at the fairgrounds and will adorn the walking path during the event.
For more information visit Relay For Life.
Thank you for truly making a difference!
Simply Hair Team
Becca, Kathy, Gina, Christy, Jonelle, John and Haley